THE Penang government is mulling over having an amusement theme park in Batu Kawan to boost tourism in Seberang Perai.
Chief Minister Chow Kon Yeow said the state intends to turn Seberang Perai into a more vibrant area.
"Batu Kawan has seen much development. IKEA Batu Kawan is set to open its doors on March 14 and an Australian university branch campus, University of Wollongong, is scheduled to open in September this year.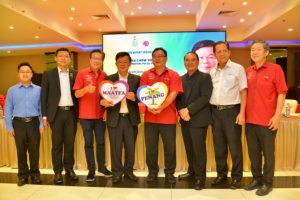 "We are waiting for the right operator to take up the challenge to develop the amusement theme park," Chow said in his speech during a dinner with the Malaysian Association of Amusement Themepark & Family Attractions (MAATFA) members in Lot 33, Prangin Mall today.
MAATFA was established for the sole purpose of bringing together industry players in the common interest of developing the attractions industry as a wholesome and safe family fun for guests, with the highest level of professionalism, integrity and social responsibility.
Chow said Penang is a unique state.
"Penang is a well-known destination of choice for tourists as it has natural attractions. It is also a food haven," he said.
Also present were state Local and International Trade and industry, Entrepreneurship Development and Consumer Affairs Committee chairman Datuk Abdul Halim Hussain, Komtar assemblyman Teh Lai Heng, MAATFA advisor Tan Sri Richard Koh, MAATFA president Datuk Simon Foong and Penang Island City Council (MBPP) councillor Wong Yuee Harng.
Chow also discussed the progress of the Penang Transport Master Plan (PTMP) with the MAATFA members during the event.
Source: Bulletin Mutiara