Average accommodation prices paid in six prominent travel destinations in Malaysia have increased by 4% to 19% y-o-y in 2017, in line with a global uptrend last year.
According to the latest Hotel Price Index (HPI) from Hotels.com, overnight accommodation prices (including taxes and fees) Malaysian travellers paid had risen 2% globally in 2017, after three years of flat growth.
The HPI recorded a two-point rise in the global index to 116, the closest it has been to the 2007 peak of 118. Every regional index, except for North America, grew in 2017, Hotels.com said in a press release today.
"The slight increase in average accommodation prices globally, combined with numerous markets having record visitor growth, signals a strong travel economy and a growing desire from consumers to experience the world," said Hotels.com president Johan Svanstrom.
On the Malaysian front, the portal has observed significant increases in prices paid in Malaysian ringgit recorded in six top domestic destinations — Langkawi (19%), Sabah (12%), Petaling Jaya (8%), Kuala Lumpur (6%), Penang (5%) and Ipoh (4%) — with exceptions in Johor (-10%) and Sarawak (-3%).
"The double-digit price increase in Sabah last year corresponded with the strong growth of the tourism sector in the state, which received 3.67 million tourists in 2017 — an all-time high," said Hotels.com regional director for Greater China, Southeast Asia and India Jessica Chuang.
Travellers paid the most for accommodation in Langkawi and Penang last year — an average of RM292 for the former and RM250 for the latter.
Langkawi's significant 19% rise in hotel prices last year corresponded with the introduction of new direct flight routes connecting the island with Guangzhou and Shenzhen, two major Chinese cities.
However, average accommodation prices paid by travellers in Johor experienced a sharp decrease of 10% last year — defying the national trend.
Meanwhile, Hotels.com noted that last year also proved a major coup for Japanophiles, with the ringgit's strong performance against the Japanese yen.
"As such, Malaysian visitors found themselves paying considerably less in 2017 for popular destinations such as Tokyo and Osaka," Chuang pointed out.
In the top Japanese destinations in 2017, namely Tokyo and Osaka, the average accommodation prices paid by Malaysian travellers have reduced by 6% and 14% y-o-y, respectively, in 2017.
Malaysians also enjoyed a much better value for their ringgit in Italy in 2017. Sharp decreases in average hotel prices paid were observed in Rome (-8%), Milan (-15%) and Florence (-11%) — the three most popular Italian destinations for Malaysian travellers last year.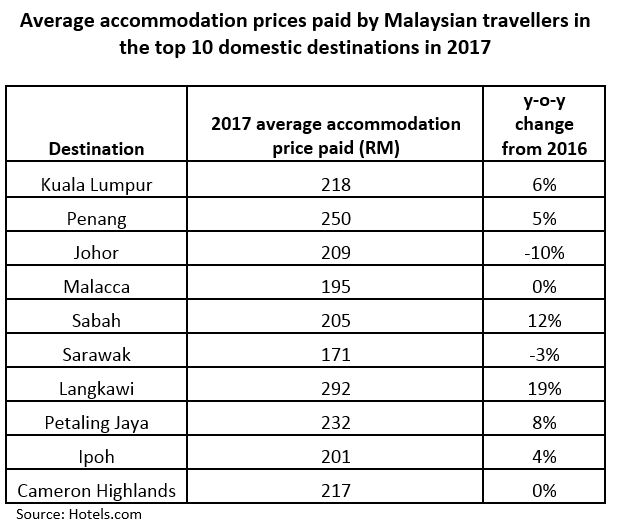 Strong increases have also been observed in outbound accommodation prices paid by Malaysians last year, including Jakarta (10%), Hong Kong (10%), Singapore (6%), Ho Chi Minh City (5%), Bangkok (5%), Taipei (3%), Phuket (3%) and Hat Yai (2%).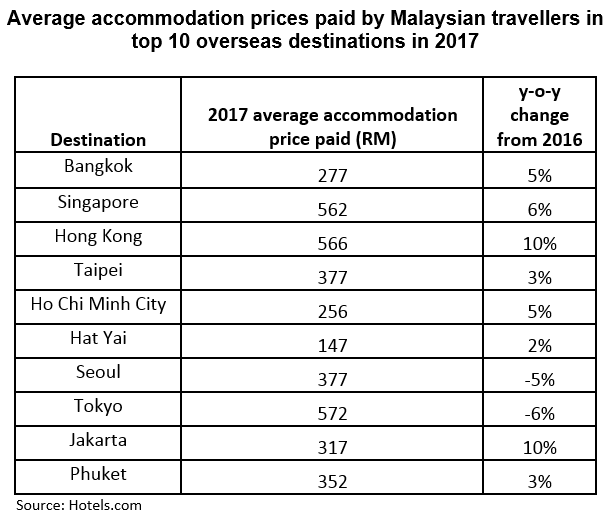 Source: EdgeProp.my