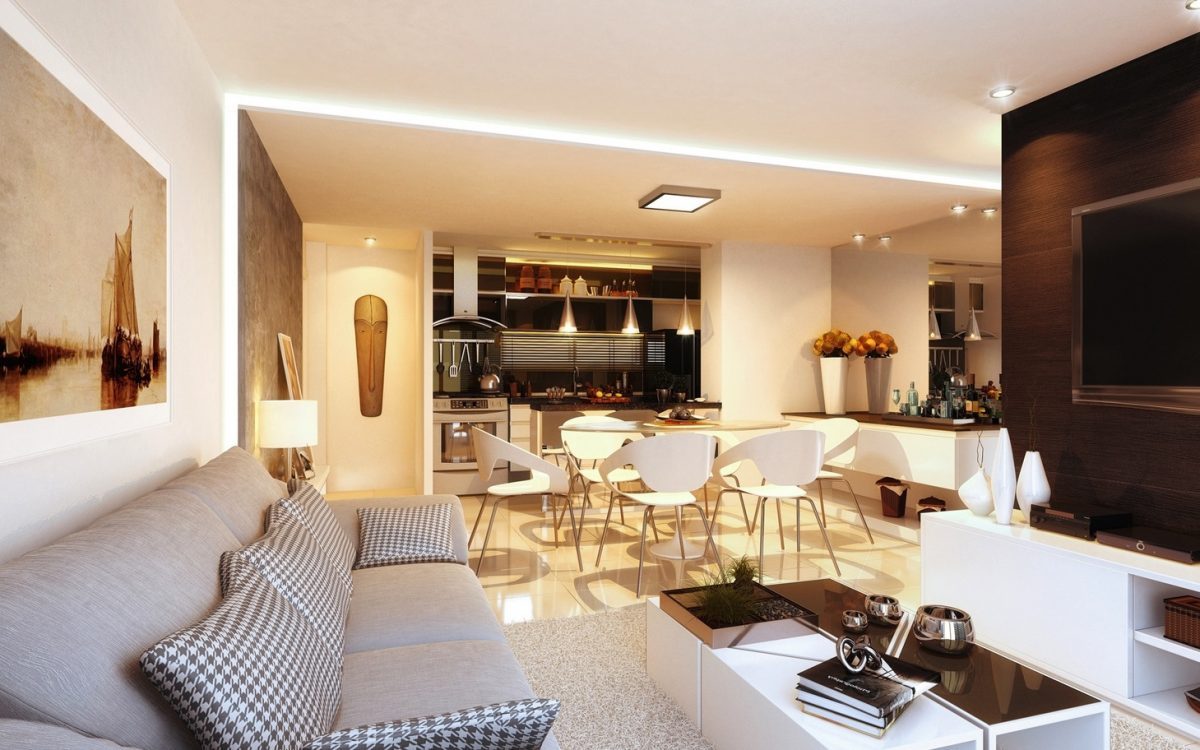 Open home concepts are really nothing new. The term simply means that several main spaces in the home are joined together in one large and flowing space. Usually, the kitchen, dining and living rooms are combined in one large space whereas the bedrooms are sectioned off.In some homes, the bedroom is incorporated into the open floor plan as well, turning the home into a studio-like setting.
There are many benefits to the open home design, with spaciousness being one of them. Since we live in a warm and humid country like Malaysia, heating and insulation isn't an issue and the open home concept is truly suited to our weather as it encourages airflow.
These are some of the examples of how the open home design can be pulled off with great panache and style:
Pure and Earthy
The fluidity of this design will make you fall in love with the open home concept. One space seamlessly flows into the other without clear borders, but each space maintains its functionality with ease. Both the long polished kitchen counter and dining table are placed parallel to one another to create casual borders and give the home a hint of structure. The living room's invisible border is created by a white fleece carpet, which complements the neutral tones of the space, which opens up to a green garden, blurring the lines between the indoors and outdoors.
A Classic Cosy Look
You can turn your open home into a rustic haven, inspired by the classic log cabin look. You can almost picture a fireplace burning in the corner, while friends and family cosy up to it on fluffy sofas in the living room. The different areas here are well-spaced out in a non-linear manner, which creates a lovely, warm and hospitable feeling. The blend of old and new pieces of furniture and decoration brings an air of sentimental comfort into the space as well.
Urban Relaxing Fluidity
The open home concept is appealing to more and more young urbanites who find it extremely convenient as it allows them to move and work more easily. It also saves a lot more space as there are no walls and less partitions, which is ideal for city apartments that aren't too spacious. The blue accents in the following design encourages rest and relaxation, perfect after a long and tiring day.
Lightweight and Bright
Large doors and windows are not a must for an open floor design, but they do help in bringing in much needed fresh air and bright light. Here, the homeowner has opted for smaller and lighter pieces of furniture so that the empty space becomes the highlight of the home.
No More Walls
High ceilings and roll-away doors complement the open home concept very well, as they increase the perception of space. However, one designer in Brazil has brought this concept to a whole new level, and removed all the walls for much of the home, combining the living and dining areas with the garden itself. Marcio Kogan's Casa Panama or Panama house is a testament that you don't need walls to make a home.
Creating an open home involves much more than just knocking down partitions and walls. It also involves choosing colours and furniture that allows the space to 'breathe' and for air to flow more easily. You may want to consider getting some professional interior decorators to help you with your plans, and then some expert renovators to transform your home for the better!